Your satisfaction is guaranteed!  Just ask our more than 5,000 satisfied Oklahoma roofing customers.
I used this company to replace a 2nd story deck, build an interior wall, install interior and exterior French doors, move plumbing and electrical, replace a gate, and paint my house. All of the work was quality! The contractors and subcontractors were easy to work with. They literally keep working until you are satisfied. Some things came up in the process but the price stayed the same. It only raised when I requested an additional item… Highly recommend to anyone.
---
These guys did a great job on our roof – They were meticulous in their work and any concerns I had were addressed immediately. We have a balcony, which I know is tricky, and we have had our home five years now without any problems. They left the extra material left over from the job in case we should need it at a later date for any reason or repair.
---
The crew that came out to my house to roof it was a small army of people with a good attitude. Unlike my past roofers who did everything wrong they showed up on time, Got right to work with an efficient system and got my whole roof off, tested the slats, and had a new roof on, cleaned up and were out of here in about 7 hours. The last roofer I had took 2 days and left the roof in worse condition than they found it in and had to come back and fix it. The Van De Steeg crew was fantastic, professional and confident in their job. They cleaned up everything, and worked with my insurance to get me the most for my money. I would recommend Van De Steeg & Associates to anyone who needs roofing and construction work.
---
Following the onslaught of spring storms this year in Oklahoma, our insurance company authorized a roof and gutter replacement along with painting of our arbor and the raking out of our air conditioner fins. After getting approval for the work from the insurance company, I sought out three estimates from roofing contractors in the OKC/Moore/Norman area.
I settled on Van De Steeg based on their reputation, references and straightforward sales approach along with their willingness to help me navigate the insurance estimate and bank escrow maze. Our sales account executive, Greg Wells was there every step of the way.
The roof on our 2750 square foot house was completed very quickly (less than a day and a half) and the materials and workmanship were excellent. The crew was courteous and did their best to minimize disruption to our household. On top of that the cleanup was amazing, as virtually every scrap and nail was "hunted down' and properly disposed of.
---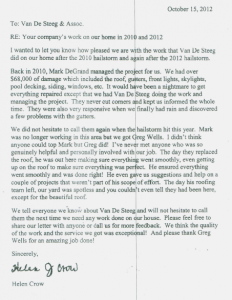 To: Van De Steeg & Assoc.
RE: Your company's work on our home in 2010 and 2012
I wanted to let you know how pleased we are with the work that Van De Steeg did on our home after the 2010 hailstorm and again after the 2012 hailstorm.
Back in 2010, Mark DeGrand managed the project for us. We had over $68,000 of damage which included the roof, gutters, front lights, skylights, pool decking, siding, windows, etc. It would have been a nightmare to get everything repaired except that we had Van De Steeg doing the work and managing the project. They never cut corners and kept us informed the whole time. They were also very responsive when we finally had rain and discovered a few problems with the gutters.
We did not hesitate to call them again when the hailstorm hit this year. Mark was no longer working in this area but we got Greg Wells. I didn't think anyone could top Mark but Greg did! I've never met anyone who was so genuinely helpful and personally involved with our job. The day they replaced the roof, he was out here making sure everything went smoothly, even getting up on the roof to make sure everything was perfect. He ensured everything went smoothly and was done right! He even gave us suggestions and help on a couple of projects that weren't part of his scope of effort. The day his roofing team left, our yard was spotless and you couldn't even tell they had been here, except for the beautiful roof.
We tell everyone we know about Van De Steeg and will not hesitate to call them the next tim we need any work done on our house. Please feel free to share our letter with anyone or call us for more feedback. We think the quality of the work and the service we got was exceptional! And please thank Greg Wells for an amazing job done!
Sincerely,
Helen J Crow
---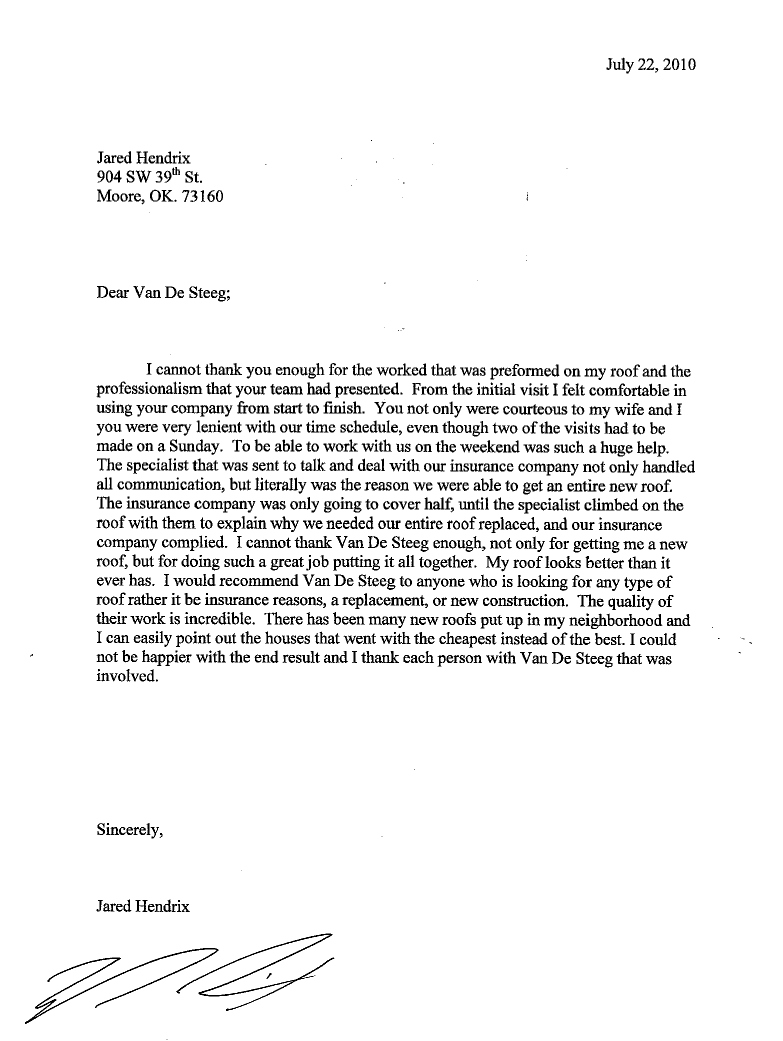 View our business profile on Yelp