What Goes Into a Van De Steeg Roof?
November 24, 2014 12:14 pm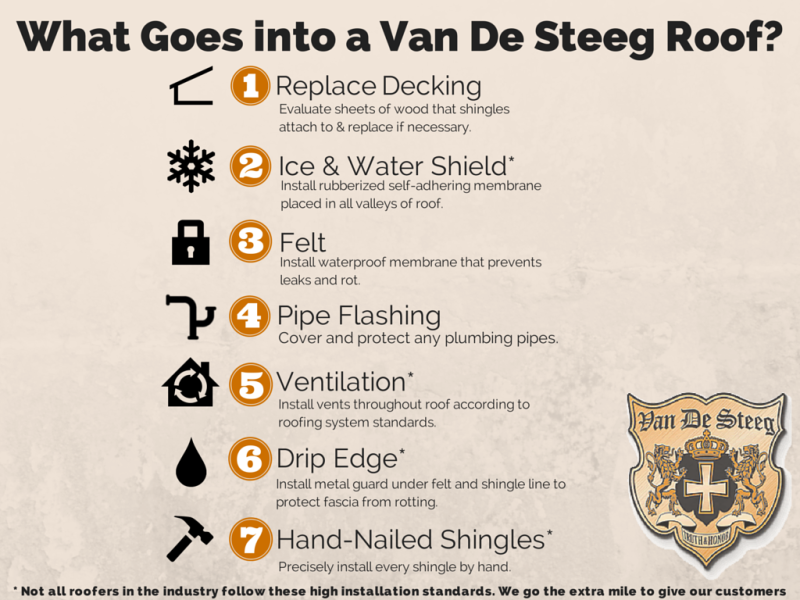 As you can see from our infographic, Van De Steeg places a high priority on quality. We take extra steps to ensure your roof will endure Oklahoma weather. Specifically, ice and water shields, ventilation, drip edge, and hand-nailed shingles are four practices unique to Van De Steeg. While you may find a cheaper price from a "Chuck in a truck" roofer, the quality of your roof will suffer.
Here are more details about Van De Steeg's unique roof installation practices:
Replace Decking:
We evaluate the wooden decking on your roof before replacing the shingles. These sheets are often damaged or rotten after a long period of time, so we replace them as necessary.
Ice and Water Shield:
An ice and water shield is a rubberized, self-adhering membrane that keeps the elements from seeping into the decking of your roof. We install these into all of the valleys of your roof. This practice is not used by all roofers in the industry, but we believe it is vital to Oklahoma roofs because of the extreme weather conditions. We also offer a "Northern Standard" upgrade, where we install the ice and water shield into your eaves and rakes as well.
Felt:
Next, we install a waterproof membrane called "felt." In years past, felt was made of tar paper, which has a paper sack-like consistency. Now, most modern roofers use a synthetic felt underlayment, which is much more durable and effective.
Pipe Flashing:
Any plumbing or pipe penetrations in your roof need to be protected. Also known as a pipe boot, pipe flashing can be cut into three different sizes to fit your roof's unique needs.
Ventilation:
Ventilation is one of the most important parts of the roofing process. Without proper ventilation, a "30-year-shingle" can turn into a "10-year-shingle." While most roofers install ventilation, Van De Steeg has a higher standard for ventilation practices. We are GAF Master Elite Certified & CertainTeed Select Shingle Roofer Certified. When we install our roofing systems, we comply with the manufacturers' ventilation standards – guaranteed. Not only will this extend the life of your roof, but it keeps your roof under manufacturer warranty.
Drip Edge:
This is another extra step that Van De Steeg takes to increase the life of your roof. We install this metal edge under the felt and shingle to protect your wood fascia from rot. While other roofers charge extra for a drip edge, this is a standard practice for all Van De Steeg installations.
Hand-Nailed Shingles:
We hand-nail every single shingle we install. There are many reasons why hand-nailing is better than an air gun, but the main reason is quality. Hand-nailing allows us to pay careful attention to the installation of every single shingle. Compared to a compressed air nail gun, hand-nailing only takes 10% more time, but the quality and durability of the installation by hand is incomparable.
Here at Van De Steeg, our goal is to provide the highest quality materials, installation and insurance practices to ensure your roof will endure for as long as possible. Contact us today for a free roof inspection and free quote!